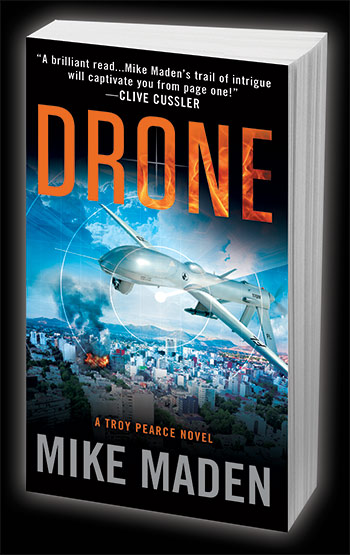 READ AN EXCERPT

With a fascinating international cast of characters and nonstop action, Mike Maden's Drone kicks off an explosive new thriller series exploring the inescapable consequences of drone warfare.

Troy Pearce is the CEO of Pearce Systems, a private security firm that is the best in the world at drone technologies. A former CIA SOG operative, Pearce used his intelligence and combat skills to hunt down America's sworn enemies in the War on Terror. But after a decade of clandestine special ops, Pearce opted out. Too many of his friends had been sacrificed on the altar of political expediency. Now Pearce and his team chose which battles he will take on by deploying his land, sea, and air drones with surgical precision.
            Pearce thinks he's done with the U.S. government for good, until a pair of drug cartel hit men assault a group of American students on American soil. New U.S. president Margaret Meyers then secretly authorizes Pearce Systems to locate and destroy the killers sheltered in Mexico. Pearce and his team go to work, and they are soon thrust into a showdown with the hidden powers behind the El Paso attack—unleashing a host of unexpected repercussions.
            A former lecturer and media consultant in politics and international conflict, Mike Maden has crafted an intense, page-turning novel that blurs the lines between fiction and the reality of a new stage in warfare.


REVIEWS

"A brilliant read with astounding plot twists...Maden's trail of intrigue will captivate you from page one."
—CLIVE CUSSLER, #1 New York Times-bestselling author

"DRONE is action-packed with cutting-edge technology and an unforgettable cast of characters."
—W.E.B GRIFFIN, #1 Wall Street Journal and New York Times-bestselling author

"...an engrossing techno-thriller. Plenty of great drone details. Readers will eagerly await Troy's further adventures."
—Publishers Weekly